Not being a food purist, I like to experiment. Lately I've been mixing sauces and condiments. Now you'd think that sauces and condiments are made to be what they are, and usually their tastes are so intense that they stand well on their own and shouldn't be mixed. Surprisingly, there are some great combinations that together become more than the sum of their parts.
1. VEGENAISE, GREEN CURRY PASTE, AND CIDER VINEGAR. Mix these together for a complex and tasty sauce that will blast any boring meal into orbit. Approximate proportions: 1/2 c Vegenaise, 1/2 teaspoon Thai Green Curry Paste, and 1-2 teaspoons cider vinegar.
2. EAST-WEST BRAND SPICY GINGER SAUCE, AND LEMON CURD
The first time I mixed these two I kept tasting to double-check because I couldn't believe I'd created something so amazingly good. It's very sweet, but works well as a marinade and main dish sauce.Any good quality lemon curd will do the job, but the ginger sauce made by East-West is special.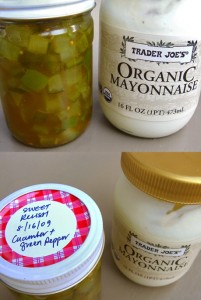 3. MY OWN CUKE-PEPPER RELISH, AND MAYO
Trader Joe's Organic mayo is the one I use, which has no sweeteners. The relish is a variation on my pickles recipe, but with the addition of green peppers and more sugar.  This mixture far surpasses what you'd get if you combined fast-food sachets of mayo and relish. There is fennel and other spices in the relish that take the combo to another level. Very tasty!