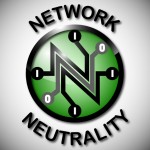 What's about to happen will affect us all in ways we can't yet imagine.
The current nondiscrimination principle of "network neutrality" forbids phone and cable companies from blocking or even discriminating between or entering in special business deals to the benefit of some sites over others.
For example, as Suzanne succinctly puts it on plumbersurplus.com "Net neutrality is the idea that all information is created equal, therefore, it should be available to all users of the internet without the interference of big companies stating what can or can't be viewed. For example, if there was not net neutrality then Google could choose to not allow any Gmail users to receive emails from Yahoo accounts and vice-versa. Also, wireless carriers could sell tiered services that would allow some people to get information faster than others."
However, net neutrality is "dead man walking", because the DC Circuit Court is about to rule probably in favor of Verizon.
As Marvin Ammori writes in Wired, "Despite eight years of public and political activism by multitudes fighting for freedom on the internet, a court decision may soon take it away."
"The implications of such a decision would be profound. Web and mobile companies will live or die not on the merits of their technology and design, but on the deals they can strike with AT&T, Verizon, Comcast, and others. This means large phone and cable companies will be able to "shakedown" startups and established companies in every sector…"