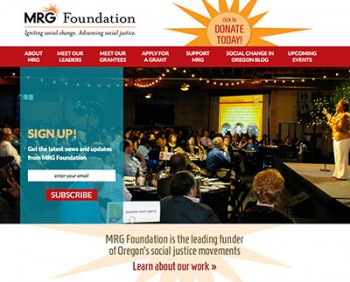 Here at Blue Mouse Monkey we were continually inspired by our client the MRG Foundation during the thorough rebranding and website redesign process that wrapped up with the website launch last week.
Our work with MRG began in the spring with discovery: surveys, focus groups, personas, and analysis of the foundation's position among its audiences of social-change activists, grantees, donors, and foundation peers. A visual redesign followed, (although unfortunately the new logo was delayed until next year) generating new fonts and color palette and a modernized look-and feel. Additionally, we collaborated with MRG to create a new tagline and new boilerplate descriptive text. All this on top of our traditional web strategy work encompassing information architecture, user experience design, user interface design, and WordPress development.
A special feature of the site is the Grants Archive, a searchable database of the last five years of MRG grantees, sortable by date, region, amount, issue area, and leadership, and fully integrated with MRG's internal CiviCRM grants database.
The new brand strategy and website will serve as a solid foundation and help raise visibility for the MRG  Foundation as it moves forward with its plans for growth and even greater impact on social change in Oregon.