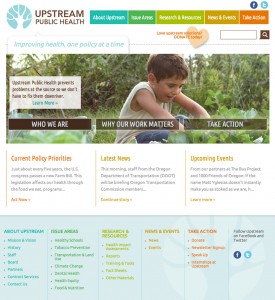 CASE STUDY:
Upstream Public Health
Challenges
Upstream Public Health is an Oregon non-profit that researches innovative public health solutions and moves them into the mainstream dialogue, providing expertise in regional policy and decision-making. Upstream's old website obscured the impact of their work. They needed a distinctive online platform to frame issues, provide timely information to their audiences, and express the values and upbeat personality of the organization.
Solutions
An in-depth analysis and overhaul of the website's information architecture led to user-friendly design decisions that helped highlight the work and issues important to Upstream Public Health.
An easy-to-use, Drupal content management system (CMS) allows Upstream's staff to provide the most current policy issues, latest news, and upcoming events to their audiences from the convenience of their own computers or mobile devices.
Results
The Upstream Public Health website has become a dynamic place full of timely information important to its various audiences in government, policy organizations, affected communities, and the media.
The new structure makes the site easier for staff to update, and the website can scale larger as new Issue Areas are added.
Upstream's staff is confident the work they do is now easily accessible and understandable to their website visitors.
Upstream provides vital information and resources to their visitors with good user-experience design, distinguishing Upstream as the go-to place for public health related information.