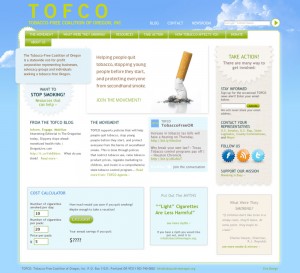 CASE STUDY:
Tobacco-Free Coalition of Oregon
Challenges
TOFCO is revitalizing the tobacco-free movement in Oregon through grassroots advocacy and outreach to communities most impacted by the harmful effects of tobacco use. TOFCO needed a website that acted like a virtual staff member to provide relevant information to community advocates and decision makers, build the tobacco-free movement support base, increase organizational efficiency and elevate TOFCO's presence in the community at large.
Solutions
Sound information architecture and an engaging design makes the website a powerful ally to the TOFCO team. An easy-to-use content management system (CMS) allows the most current news and information to be available to TOFCO's audiences.
A clean, refreshing and thoughtful design reinforces the TOFCO mission and allows visitors to support the tobacco-free movement in a variety of ways, including different donation levels, subscription to the TOFCO newsletter and volunteer opportunities. Social media integration puts the TOFCO message in many places through an efficient process, making time for the executive director to focus on top priorities.
Results
TOFCO is positioned as the emerging leader in Oregon for anti-tobacco news and information.
Staff can refer interested parties to their website with confidence.
TOFCO becomes a valuable resource to local communities.
visit tobaccofreeoregon.org »