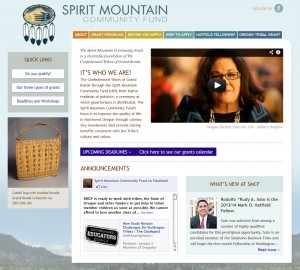 CASE STUDY:
Spirit Mountain Community Fund
Challenges
SMCF is the philanthropic arm of the Confederated Tribes of the Grand Ronde, and is one of Oregon's largest funders of non-profits. Their old website confused grant applicants and Fund staff struggled with poorly constructed applications. Additionally, the Tribe's distinctive spirit, achievements, and leadership role in social change in Oregon were obscured. To top it off, staff members had only minimal control over the website content.
Solutions
Blue Mouse Monkey tackled these problems with a complete reorganization and rewriting of content, total visual redesign, and a new easy-to-use CMS (Content Management System.) SMCF no longer needs to pay a middleman to correct, amend or update the content of their own website. New information architecture design includes a visual chart of the grant application process. This at-a-glance perspective allows users to see all the steps involved and applicants can easily estimate the time and resources their organization will be expending to apply for a grant.
In creating a new look-and-feel, it was important to honor the Tribe's heritage, while avoiding tired visual stereotypes associated with Native American culture. Blue Mouse Monkey created a design that highlights the traditional basket-making of the Grand Ronde Tribe, set off by a fresh, contemporary color palette.
Results
The Spirit Mountain Community Fund website delivers crucial and comprehensive information to their grantees.
New information saves valuable staff time by answering basic questions.
Grantees now have a convenient reference in the SMCF website that provides grant writing resources beyond SMCF.
The SMCF website brings positive attention to their grantees, giving these hard working organizations another opportunity to be seen by the community at large.
The visual design honors basket-making as a unique cultural element of the Grand Ronde Tribe.
New content educates visitors about the Grand Ronde Tribe's leadership role in Oregon.
visit thecommunityfund.com »