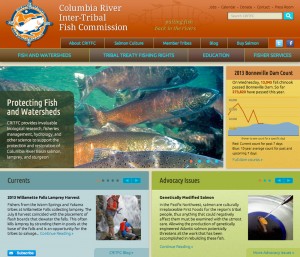 CASE STUDY:
Columbia River Inter-Tribal Fish Commission
Challenges
The Columbia River Inter-Tribal Fish Commission is an enormously impactful organization in the Pacific Northwest, but the scope of their work was difficult to understand via their cumbersome, static, 12-year-old website. Additionally, the old website did not adequately serve the broad range of audiences in the areas of fish and watershed science, policy-making, the media, educators, traditional tribal fishers, and the general public.
Solutions
Blue Mouse Monkey completely restructured the user interface design and content to reflect the four pillars of CRITFC's mission. This involved bringing to the front many aspects of the site that had previously been buried several layers down. The new WordPress CMS enables multiple CRITFC staff to edit the site, thus releasing the bottleneck of a single web editor who modified the old site in Dreamweaver. Additionally, a mobile version allows users to access data, for example Salmon Sales locations, while on the road.
The new look-and-feel recalls natural colors from the region, and makes use of ancient pictograph designs from the Columbia River, creating a visual connection between the living tribes and their responsibility for the fish and watersheds, and their ancestors who lived on the river for millennia. The new site helps position CRITFC as a thought-leader in ecosystem stewardship.
Results
Audiences in the science, education, media, and policymaking communities can now easily search and filter for any of CRITFC's hundreds of scientific reports, restoration projects, policy documents, and other specialized data.
The new content management system makes the site much easier for CRITFC staff to update.
The website can easily scale larger as new Project, Science, and Policy pages are added.
The new Advocacy Issues section, as well as new content about the history of CRITFC and its success stories, underscores CRITFC's role as a major influence in the region.
The new user interface design serves multiple audiences while uniting the site into a coherent whole.
The four tribes that oversee CRITFC, the Nez Perce, Umatilla, Warm Springs, and Yakama, gain visibility for the work they do in Fish and Watershed restoration, and for the tribal fishing rights they enjoy.
visit critfc.org »