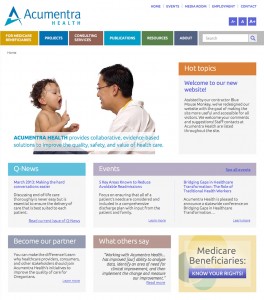 CASE STUDY:
Acumentra Health
Challenges
Acumentra Health is a non-profit Quality Improvement Organization that helps medical providers and institutions in Oregon and Washington deliver better medical care. This large organization struggled with a static website that was difficult to scale. The lack of flexibility caused bottlenecks with the single site administrator working in Dreamweaver. Additionally, the lack of imagery or other visual cues created a uniform effect that made it hard for users to distinguish one section of the site from another. On top of all that, Acumentra did not have the flexibility they needed to deal with news, events listings, and other frequently changing content. Overall, the site did not adequately serve Acumentra's audiences of healthcare providers, health plan administrators, healthcare policy leaders, client agencies, the media, and Medicare beneficiaries.
Web Development Solutions
Blue Mouse Monkey transitioned Acumentra into a completely redesigned new site built in WordPress. The ability to run multiple user accounts with different levels of access means many more staff at Acumentra can ownership of different parts of the site, such as news and events listings, freeing the former site administrator from web development bottlenecks.
When you have few images, color becomes your ally in helping users distinguish sections of the site, so a color scheme was created that differentiated each of the main sections. Because Medicare beneficiaries are an important audience for this site, care was taken to make the site thoroughly Section 508 compliant. Additionally, the responsive design allows users to access data from mobile devices.
Results
Audiences in the healthcare industry (providers, administrators, policy leaders agencies) as well as members of the media, and Medicare beneficiaries, can now easily search and filter for any of Acumentra's many projects, resources, and other specialized data.
The new content management system makes the site much easier for Acumentra staff to update.
The website can easily scale larger as new pages are added.
visit acumentra.org »