Last weekend I had the opportunity to play outside. I guess I don't get to do that much anymore, because it felt like an incredible treat. At home I can be outside in the garden in two modes: gardening, or relaxing. The relaxing thing happens rarely, and only for a half hour, tops, then I'm off doing something else. The gardening thing is good, but purposeful. There isn't much pure play involved in weeding beds and harvesting vegetables.
But last weekend I stayed in a log house in the Hood Canal (which is really a fjord) with three other women. We were there to share creative solitude during the day, and friendship over dinner in the evenings. The others worked on writing projects, and I made art. I expected to write, too, but earlier, while cleaning out our basement, I found a bunch of leftover bits and pieces from grad school. Plaster casts of hands, rolls of colored string and cellophane, paper cut-out shapes. On impulse I decided to take this flotsam and jetsam of a period of intense art-making up to the Hood Canal to play around with it and see what happened.
At my friend's place I chose to work in a small meadow next to an old shed. It was more like a clearing in the forest, and filled with buttercups and light slanting through the trees. I didn't have any particular plans other than I'd make site-specific sculptures and leave them there. (Or dismantle and discard them in my host didn't like them, but it turned out she did :-)
The first piece I made was inspired by sun hitting tendrils of tall grass in front of the shed. They made bright vertical lines of light against the dark background. I created a set of horizontal lines to complement, using embroidery thread. Keeping the tension in the thread was the hard part, since I couldn't pull too hard on the grass stalks or they would snap.
Then I hung from a tree pieces from an installation I did years ago called The Myriad Things. Now the very cool thing I discovered, which I had never seen when this work hung in a gallery, was how it moved in the wind. Each strand has three collaged paper or glass vesica piscis shapes strung together with fine monofilament. Instead of flapping around like a wind chime, the shapes acted like paddles, and they spun in place. It created a beautiful floating, flickering effect, especially, when seen across the clearing. (Please excuse the crappy iphone video.)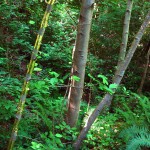 Other pieces I made included burying gold foil under the duff so it glinted through, making the earth look golden. That one was hard to photograph. I also wrapped a sapling trunk in bands of gold foil, and placed plaster hands among the buttercups.
The other more visible piece I did was a large "cellophane fin", made by wrapping colored cellophane across the delta-shaped spaces made by low, nearly horizontal maple limbs. The cellophane was left over from some 4-color printing process, with alternating magenta, cyan, yellow and black frames. The effect was like stained glass, but delicate and fragile, and in a tree.
I got to make a sculpture garden! It was the most satisfying thing I have done in a long time. I need to get out and play more often.*
* Bucket list:
1. Experience the Calabi-Yau in all ten dimensions
2. Play outside regualrly