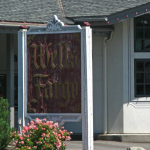 Well, I imagine there must have been a battle, because major brands don't usually acquiesce to this kind of thing.
Leavenworth, WA, the "Bavarian" town is remarkable (if for no other reason) in that the Leavenworth brand is apparently strong enough to dominate major national brands. Corporations must forgo their brand logos and fonts for something that "blends" with the rest of the town, in this case Wells Fargo bank.
Another instance of brand subservience: Bank of America.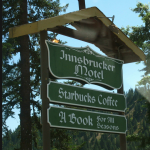 The Starbucks brand relinquishing its visual identity in Leavenworth, WA.
Even Subway has to use a fancy "old fashioned" font, although they are allowed to keep the two-color aspect to their name.